Rolling Stock

La Cuesta 1926 Pullman Observation, Ex Santa Fe No. 1512. La Cuesta, formerly known as La Condesa, a 1926 Pullman observation open platform car was donated to the museum by member Gordon Crosthwait in June of 2006. Formerly Santa Fe no. 1512, it was one of five cars built as cafe-observation cars. As far as we know the car continued in this configuration for it's entire service life. La Condesa was purchased around 1966 for Finley Fun Time Tours and sold to Mr. Crosthwait in 1969. Even with several improvements to the car, in 1989 work commenced on refurbishing and further improving the car. The car was first based in Fresno and then later moved to Anaheim. After being stored in Fullerton near the Amtrak Station for many years, the car was moved in 2007 to Santa Maria Valley Railroad. At that location Museum members continued work on rehabilitating the car. In June of 2014 the car was moved to the Museum in San Luis Obispo, where it now sits adjacent to the Museum platform and is available for viewing.

May 22, 2014: La Condesa moved to the Museum
June 28, 2014: Member Wine Reception
November 19, 2014: Renovation update
November 22, 2014: On the Friends' Tour
May 9, 2015: The car is christened "La Cuesta" on SLO Train Day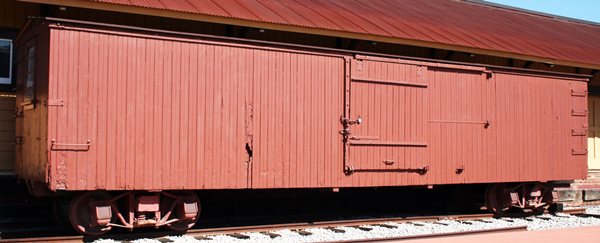 Pacific Coast Railway Boxcar 1200 Series. The museum's Pacific Coast Railway narrow gauge 1200 series car was built by the American Car and Foundry Company in 1924 for the PCRwy. It is the last type of boxcar built for the PCRwy and it is the largest. At 36' 6", it is longer than any other type of PCRwy boxcar. However, at slightly over 7' wide, it is the narrowest in width. It sits on original PCRwy 1200 series trucks that were acquired from the PCRwy derrick car that was on the UNOCAL, (ex-PCRwy) pier in San Luis Bay. That pier and car were destroyed by a violent storm in October 1981 and they fell into the bay. The only parts of the car that were saved during the clean up operation, were the trucks (wheels and their arch bar frames). The only existing 1200 series trucks now have been placed under the only remaining 1200 series car. The San Luis Obispo Railroad Museum evolved from the Avila Valley Railway Museum which was was founded as a non-profit organization on February 11, 1991. This boxcar was purchased by the AVRM circa 1994 and placed on the Miles Station site on the PCRwy. This boxcar was used for the storage of artifacts, historical tours, and as the original museum meeting facility prior to being moved to the museum's Emily Street Yard and subsequently its current location on the west side of the Freighthouse. The exact number for this car has not been determined despite repeated research and studies trying to determine its number.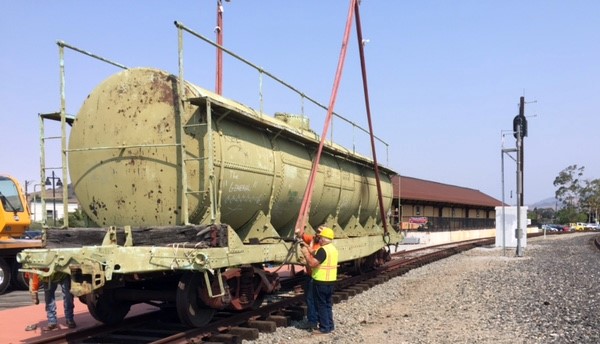 Southern Pacific Railroad Tank Car. This tank car was designed by the Southern Pacific Railroad and the Standard Steel Car Co. The car was built in 1903 by the Standard Steel Car Co. to a Common Standard design. The car was initially painted black and carried oil until it was painted Mineral Red and placed into the railroad's Maintenance of Way (M.O.W.) service. This probably occurred in the early 1930s. Probably in the early 1960s, it was placed onto a small panel of track at a location named Andesite Spur, about 14 miles north of Weed, CA. The railroad allowed the United States Forest Service to use the car as a water storage tank to fight fires in the Mt. Shasta area. More...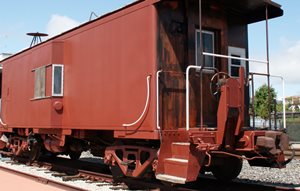 Southern Pacific Bay Window Caboose No. 1886. Southern Pacific Bay Window Caboose number 1886 was built in June, 1972. It was last used by SP on the Lompoc Local. 1886 was purchased in 1996 from a salvager for 10¢ per pound. It is now located on the display track at the Museum.

Press Release: Interior Restoration Completed, 9/16/16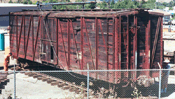 Southern Pacific Boxcar Class B-50-13. Circa 1926 Southern Pacific wooden boxcar class B-50-13. Donated to the museum by Glen McElroy, CEO of Pick-Your-Part Salvage Yards in June, 2001. It is presently stored in our Emily Street yard behind the Sears Parts Store and near the old SP roundhouse.

Other Railroad Equipment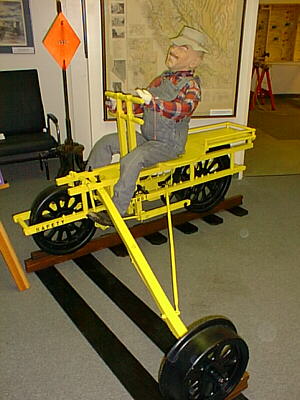 Southern Pacific MOW Velocipede. In 1883, George S. Sheffield of Three Rivers, Michigan invented the Sheffield Velocipede handcar, a 140 lb. vvood and iron bicycle with a third wheel for balance. The car is powered by both hand and foot levers. He soon formed the Sheffield Velocipede Car Company and produced about 4,000 cars. The velocipede was used throughout the nation and Europe for railroad signal inspection and maintenance. This particular handcar was used locally in San Luis 0bispo on Southern Pacific rails in the early turn of the century. PDF Poster

Phil Gould, a member of the San Luis 0bispo Railroad Museum, has lovingly restored this velocipede from it's original condition over the course of six to eight months. We thank both Phil and Vera, his wife, for their outstanding effort in reconstructing this historic rail vehicle.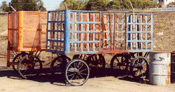 Southern Pacific Baggage Carts. Original Southern Pacific baggage carts, circa 1940's, that were used at the San Luis Obispo railroad station. They were used for baggage, freight and milk can loading and unloading at the Depot. Donated by Amtrak to the Museum.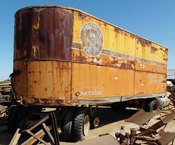 Southern Pacific Railroad Pacific Motor Trucking Trailer (#3009) in Daylight colors. This was acquired by SLORRM thanks to a donation by Brad LaRose. This is a 22-foot, round front-end trailer, with a towing dolly and a single axle in the rear with dual wheels. The trailer was made by Trailmobile in 1934 and last used (based on DMV registration) in 1957.

Gone, but Not Forgotten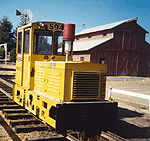 Plymouth Locomotive #594 was donated to the Museum in 1999 by Brad and Patti LaRose. Built in 1968 in Plymouth, Ohio, #594 is powered by a six-cylinder International Harvester gasoline engine, connected to a hydraulic charge pump, which drives a 5-cylinder variable speed hydraulic motor. Power is transmitted to the wheels via chains on sprockets. This unit was sold and is no longer a part of the Museum's collection.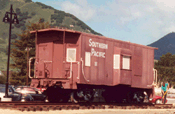 Southern Pacific Bay Window Caboose No. 409. Caboose 409 was built by American Car & Foundry of Chicago, Illinois in 1947. It was first assigned to the Texas & New Orleans Railroad and later transferred to the Southern Pacific. For many years 409 sat in Templeton Community Park where is was used as an office by the Templeton Chamber of Commerce. It was donated to SLORRM in January 2002. In the Spring of 2014, it was sold and moved to a spot just north of the museum building next to Railroad Square.