Central Coast Model Railroad (CCMR)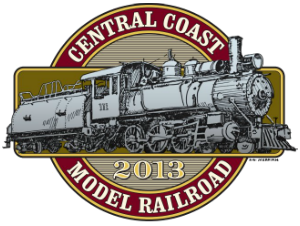 The museum will include an operating 1200 square foot model railroad which will visually set the context within which local railroads operated. This exhibit seeks to graphically demonstrate the life and times wherein the railroads were directly involved in the economic vitality of local communities and provided the majority of transport for people and freight. This model railroad will depict portions of the Southern Pacific and the entire Pacific Coast Railway as they operated along the California Coast from Gaviota to Paso Robles.



Many thanks to Phillips 66 for their major contribution (ceremony) to the Central Coast Model Railroad project for the telling of the related oil development story.



Many thanks to Central Coast Trains for their continued support of the Central Coast Model Railroad project.

To belong to the CCMR, a person must be a museum member for insurance reasons. We have our own dues structure and probation period for new members. The dues are $15 per month payable in a three-month interval to cover the probational period. For more information, email: CCMR@SLORRM.com.

You may also support the development of the model railroad by monetary contribution. Your support will help the San Luis Obispo Railroad Museum continue its efforts to preserve and interpret California Central Coast Railroading. The San Luis Obispo Railroad Museum is recognized by the Intenal Revenue Service as a 501(c)(3) Non-Profit Organization (your donations are tax deductible per the law and your circumstances).

<! Model Railroad>
Donate by Mailing a Check
San Luis Obispo Railroad Museum
P.O. Box 13260
San Luis Obispo, CA 93406-3260
TAX ID 77-0277323
San Luis Obispo Railroad Museum is a 501c3 non-profit organization, all donations are tax deductible.