National Train Day, May 10, 2014 at the Museum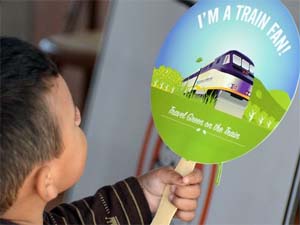 Free Museum Admission All Day
Train enthusiasts and supporters around the nation celebrate National Train Day each year at hundreds of locations across the country. And the SLO Railroad Museum is one of those locations! There will probably be some special activities at the SLO Amtrak Station as well. Trains are scheduled to be in the station roughly from 1pm to 2pm and from 3pm to 4pm. It'll be a great day to come visit the museum.

Additional activities at the SLO Railroad Museum for the day include: speeder rides ($3/person), railroad-related vendor booths, and walking tours.

Press release.

If you'd like to have a booth at the Museum for National Train Day, here's a flier (PDF).

National Train Day website.


Mission
The San Luis Obispo Railroad Museum is a regional non-profit educational institution founded to preserve and present the railroad history of California and specifically the Central Coast. Collecting, restoring and displaying relevant railroad artifacts, photographs and documents in its goal. This effort is supplemented by creating models, displays and graphics as well as operating historic railroad equipment to facilitate a better understanding of how railroads have affected our area's social, cultural and economic history.